What information is updated?
Most of the information collected as part of the National ID does not change. However, information like place of residence and marital status will need to be updated within one month of a changes, after a person has been registered. In most cases this will not affect the information printed on their card, but will change the information in the National Register.
Why is this information collected?
The information is collected so that each person can be fully and uniquely identified in the system. Fingerprints and photographs are collected and compared to ensure that a person does not register more than once with different information. A person will only receive a National ID card after their fingerprints and photograph have been electronically compared.
How is the information collected?
Information will be collected in a process that is called direct data entry (DDE), where computers and equipment are located at sites for people to be able to come to register. The equipment included will allow for fingerprints, photographs and signatures to be captured at the site. Information about a person, such as their name and date of birth, will be typed into the computer by the registration staff, once a person has provided proof of information.
Are foreigners allowed to register?
The Malawi National ID system requires foreigners to register if they have been granted a permanent residence permit, temporary employment permit or business residence permit under the Immigration Act. They will receive a different type of card and their nationality will be noted on the card.
Where and when can a foreigner register?
The focus of the first stage of the National ID system is to ensure that all Malawians are registered. Foreigners will be able to register from 2018 onwards at Post Offices and District Commissioners Offices.
Do other countries have a National ID system?
Many countries around the world have a National ID system. Regionally, Malawi is the only country within the South Africa Development Community (SADC) and Common East and South Africa Market (COMESA) that does not have some form of National ID system.
ID Card
What does the National ID card look like?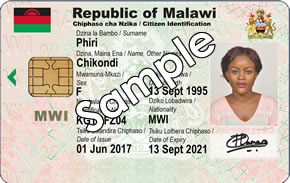 Why is there a chip on the card?
The Malawi National ID card has been designed to be a Smartcard. That means that on the chip, information is encrypted to allow for special uses of the card. The chip will include encrypted information of your fingerprints, photograph, signature and information. It will also allow the card to be used like an ATM card to withdraw money that is credited to the person under different systems, like Social Protection programs. Finally, it may also include an electronic Health Passport that maintains your medical records and those of your children under 16 years of age.
Is my information secure?
The Malawi National ID card uses state of the art encryption drawn from global standards that are also used in passports. That means that your information is extremely secure, and compared to paper record systems, it is a leap forward in Malawi for protection of your right to privacy and data protection.
Why is there a date of expiry on the card?
The Malawi National ID card has an expiry date to comply with the national law as well as international standards, but also for some common sense reasons.
National Law
By Malawian law the card is required to be replaced if the photo on the card is not clearly of the appearance of the person registered. Sadly, as we age our face changes and it is generally held that for the average person, after ten years it is necessary to update the photo.
International Standards
Internationally, the design of the Malawi ID card has been made to meet the standards of the International Civil Aviation Organisation (ICAO), which sets the standards for passports and similar official documents. For security reasons any official document of identity must have an expiry date, like a passport or a driver's license, and identity cards are included in these types of documents.
Materials
No card lasts forever. The materials being used for the Malawian National ID card are one of the best available to be long lasting. However, even using those state of the art materials, the lifetime of a card is usually at most ten years.
Proof of Life
World-wide, one of the greatest challenges for any National ID system is being able to ensure that people that have passed away are able to be removed from the system. "Ghosts" in the National ID system reduces its accuracy and integrity. When a person passes away their National ID card should be returned to the nearest District Registrar at a Post Office or Council office. Sometimes that doesn't happen, so ensuring that a replacement card is required every ten years, also tells the Government that a person may have passed away and their situation needs to be investigated.
When will my card expire?
Because of general elections in 2019, no cards issued in 2017 will expire before 2020. Normally, the expiry date will be ten years after issue. However, to avoid 9 million people coming to replace their card in 2027, for the first mass production of cards, they will be issued for between 3 to 10 years. After your first card, all cards will be issued for the full ten years.
How do I know when it expires?
The expiry date of a card is part of the information printed on the front of the card. Also, as registration starts at the age of 16, from 2020 onwards, your card will expire on the day of your birthday that you turn 26, 36, 46, 56 and so on.
What if I can't read the expiry date?
If you can't read the expiry date on the front of the card, it may mean that your card is damaged and should be replaced. You should take your card to a Registrar at the Post Office or District Commissioner's Office and ask for help.
What do I do when it expires?
You will hand your card in at the Post Office or District Commissioners office and apply for a replacement card, which is advised below under the question: What will it cost me to register and get my ID card?
Registration
Am I eligible to register?
If you are a Malawian citizen that is 16 years of age or older you are eligible to register. In fact, by law, you are required to register and it is a criminal offence not to do so.
Why should I register?
Under the law it is compulsory for all Malawians 16 years of age and older to be registered in the National ID system. It is a crime not to register, which is punishable by a fine of up to MWK 1,000,000 and up to five years in prison. However, there are many benefits to be gained from registration, as Government is adopting a "Whole of Government" approach towards its adoption.
For example, after 2017, you will need to show your National ID, proving that you are Malawian, to access free health services. If you do not have the card, you may be required to pay for the services. As well, social protection programs like FISP, will require that you have and register using the National ID card. Also, in areas like banking, you will require the National ID to open and operate a bank account.
When can I register?
Government and development partners are working toward conducting nation-wide registration in 2017. It is projected that up to 9 million Malawians will be eligible to register in that year. It is not possible to register everyone across the country at the same time, so the country will be divided into five geographical areas. Residents within an area will be registered in the course of 25 days, and then the registration operation will move onto the next area until all five areas are done.
Will registration teams come to me or do I need to go to them?
Like voter registration, you will need to go to a registration location. The equipment used to register people will be located at specific sites. In fact, NRB will be using the same sites used in past voter registration exercises to ensure you don't have to travel too far to register.       
How will I know when my area is being registered and where to go?
NRB will communicate well ahead of time the areas and period when registration will be done, and where people will need to go to register. NRB will also advise on the hours that registration is open, likely from 8am to 5pm.
How long will it take to register?
It is expected that each individual will take up to 12 minutes to be registered. There may be queues, however, which means you should plan accordingly. NRB is working with the Malawi Electoral Commission and National Statistics Office to anticipate the number of likely registrants in each area, and to ensure that sufficient teams are available to speed the process and reduce queues. Nevertheless, NRB recommends that people plan to attend early in the registration period and not later.
What happens if I am not old enough to register in 2017?
The National ID system is a continuous system. That means that after 2017, systems will be in place to register people as they become old enough to do so. By law, a person that turns 16 years of age must register within 1 month of that date. To prepare for continuous registration NRB is planning to use Malawi's 180 post offices and 28 District Offices as long-term registration points.
How do I prove my information?
NRB has identified several different types of documents that are available in Malawi, like the voter's card, passports, driver's license, birth certificate and Village Register. Each document has been given a score of between 10 and 100. A person that can produce these documents with the same information on them and add up to 100 or more points can be registered with just those documents to prove their citizenship and personal information.
What documents do I need to bring?
Before the registration process starts in 2017, NRB will inform the public through the media (radio and television), via leaflets and posters, and community meetings of the documents that will be accepted and their point score.
What do I do if I don't have enough documents?
If a person does not have enough documents, a person that has already been registered will be able to vouch for them. A person that endorses another person, will have their fingerprint captured as well. A person that vouches for you will be worth at least 50 points, so you may need two people to vouch for you. 
Why do you also capture the other person's fingerprint?
It is a criminal offence to provide false information as part of registration. If it is later found that a person has lied, or a person has falsely vouched for another person, the fingerprints will be used to identify them as part of police investigations and prosecution for fraud.
Will I get my National ID card at the time that I register?
No. At registration your data will be collected and you will be given a paper receipt with some of the information on it. Your information is sent to the National Registry where it is compared with other records. Assuming that there are no duplicate records, only after that will your ID card be printed and will then be sent to you.
What happens if I register more than once?
It is a crime to try to register more than once in the National ID system. Records that match as duplicates will be subject to process of preliminary investigation, called adjudication. If it is suspected that the law has been broken, the case will be sent to the Police for criminal investigation and no card will be issued until the matter is resolved.
Where and when will I be able to collect my card?
Cards will be sent back to you by NRB. Ideally, at the place where you registered, but alternatively, possibly at the nearest post office to where you registered. NRB is aiming to ensure that cards are produced and distributed within 6 to 8 weeks after registration in an area.
What happens if I am not around when it is sent?
Your card will be held at the nearest Post Office for your collection later.
What do I do if there is an error on my card?
You will be able to contact a District Registration Officer and submit a request for a correction to the information to be made. This will be processed, and as necessary, a new card issued.
What will it cost me to register and get my ID card?
The registration process is free. The first card that you are also issued is free of charge. If you need to replace the card because it has expired or been lost or damaged, you will be required to pay a fee to replace it.
How much will it cost to replace it?
The fees for the replacement of cards are set in the gazette, but will also be informed through District Registration Offices and Post Offices. The cost of replacement is set at a level to cover the costs of replacing it. At present the cost is MWK3,500
How do I replace a card?
You will be able to submit an application to replace your card at Post Offices and District Commissioners Offices from 2018 onwards.
Other Issues
What about my children?
The law makes registration and issuance of a National ID card compulsory from the age of 16 and above.
New born children?
For new born children, in the new births, deaths and marriages system being introduced by NRB, when the birth is registered the child will be automatically issued with a National ID number and some of their information will be recorded in the National Register. Their birth will also be linked to their parent's National IDs. When the child grows up and turns 16 years of age and they formally register, their record will be retrieved and completed. NRB strongly recommends that parents ensure that their children are registered at birth to ensure they are issued with a National ID number.
Children up to 16 years of age?
If your child's birth was not registered, you may still go to a Health Facility or Registrar's Office to register their birth. Like the new born child, the information will be captured and a National ID number created, awaiting them when they turn 16 years of age.
What is the "Proof of Concept" and pilots?
As part of its preparations towards registering people in 2017 the NRB and UNDP are conducting field work to sample register up to 5,000 people. Across 27 locations in town and rural settings in Northern, Central and Southern region, the equipment, procedures, training and public information processes will be tested. This is to ensure that when nation-wide registration is undertaken, it will be a smooth process. After the Proof of Concept phase, targeted pilots will also be conducted to test the processes with specific groups.
Will my area be part of the Proof of Concept or Pilots?
Those sites chosen for Proof of Concept or pilot exercises will be informed well ahead of time. People who are not resident in those sites should not try and register in the Proof of Concept and Pilot stages.